Our calendar, our entire perception of time, is based on this one cycle:
Sunrise <-> Sunset.
In Genesis chapter 1 verse 5, the passage of time itself finds its origin with God.
Though each unique version of the calendar is a creation of human civilizations, the concept of the calendar is part of God's design, to help us organize and focus our lives.
Rhythm & Evolution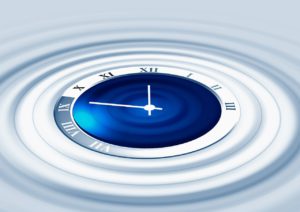 Science today tells us that our bodies and our minds require periods of light and darkness to function properly. Sleep is important to our health in every part of our live, and the circadian rhythm that allows us to sleep, and also causes us to wake, is based on the transition between light and dark.
The cycle described here in Genesis 1, "and there was evening, and there was morning…" is literally wired into our brains, a rhythm that organizes and controls our lives.
We can speak of these traits evolving over time, of our bodies adapting to the fact that the sun does rise and set. All of that is probably true. We are creatures of this world, evolved to live in symbiosis with the environment around us.
And who knows. Perhaps if humans one day manage to move out into the deep of space, our brains will change, the circadian rhythm will fade, and the division between light and dark will no longer apply.
But as so often happens when science tries to push God out of the equation, we Christians come back and say, "Yes, ah-ha, that makes sense." Here in Genesis, God created the day cycle before God created us. What science now proves has a biblical parallel: our circadian rhythm is based on something older than ourselves. No part of our existence is really self-contained.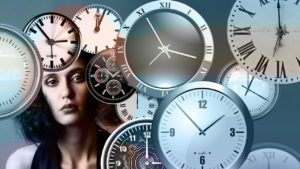 Cycles
God created us to move in cycles, so that we could experience all the joys of creation, both the activity of the day and the peace of night.
Night and day is only one such example. Most of our existence occurs in cycles—age, fertility, the change of seasons, the planting and the harvest, work and play. Like night and day, each of these brings its own joys, and its own burdens. God designed us to enjoy them all.
These cycles allow us to move forward, to learn, to grow, to understand ourselves, and to understand God. So is it any wonder that the ancient writer used one of our most important cycles – night and day – as the framework for his creation story?
The phrase "and there was evening and there was morning" is repeated six times in Genesis 1. It is used to separate one act of creation from the next, separating the story into sections like the refrain of a song separates one verse from the next. It serves as a poetic artifice, a structure that the writer can build his message around.
And the point?
God is the author of order, knowledge, and growth. Creation does not happen all at once. Rather, life grows, develops, changes, gets progressively stronger, more complex, wiser…
The cycles move God's story forward, and move us closer to God as a result.
When does the day start?
We think of a day beginning at sunrise and ending after sunset.
But Genesis 1:5, and later verses, tells us that the day begins with evening, and then comes morning.
This is why the Jewish tradition begins the Sabbath celebration on Friday night, not on Saturday morning, because in Jewish tradition, the day begins with sunset, not sunrise. It's a cultural difference. Do you begin the day with sleep, or with work? One culture chooses the former, another the latter. It really doesn't matter.
In the story, however, this order, evening then morning, reinforces the themes we have already encountered in Genesis 1.
As the universe begins in darkness, so each new day begins in darkness, rescued from the Void by that great symbol for God's love and power: the sunrise. It symbolizes not only the first creation, but the second creation, the Apocalypse when God will end evil and oblivion forever. It is the ending of the cosmic story, foreshadowed every day of our lives.
God's story, the bible's story, the story of each individual life, and finally the grand story of the entire universe begins in darkness, and ends in the light.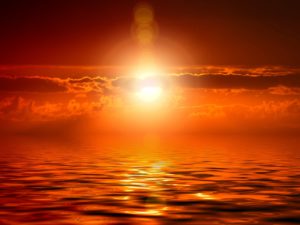 ---
What cycles are most important in your life? Do you pray at a certain time of day, attend worship or bible study at a certain time during the week? How do you organize your time, and what part does God have in your time management? Share any thoughts below.
Missed the last few verses? Catch up with Understanding Genesis 1:4.
or
==>Understanding Genesis 1:6 !