There is a meaning in Genesis 1:3 that our English cannot quite capture, because we English speakers have separated the concepts of spirit, breath, and life.
Check out the trailer below!

Back in verse 2, we were told that the "spirit of God was moving over the water." The Hebrew word for "spirit" here is "ruach."
Like most Hebrew words, ruach has a rang of meaning in English. It can mean"spirit," yes, but also "wind," and "breath."
So, when the writer of Genesis 1:2 speaks about God's spirit moving over the surface of those formless, chaotic waters, he might just as well be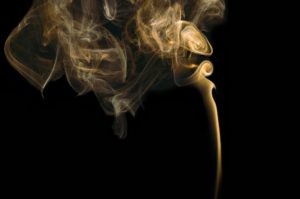 speaking about God breathing over those waters.
"Spirit" in ancient times
To the writers of the Old Testament, the spirit was not some metaphysical or supernatural entity encased inside the flesh. Rather, the spirit is the umbilical cord which allows life to exist and keep on existing.
Humans have to breathe in about twenty times every minute—even more when excited, or frightened. This is the tether that sustains our lives, tying us directly to this planet with a knot even more powerful than gravity. We can escape the pull of gravity, leave the atmosphere of this planet, but we cannot escape our need for breath.
Our spirit is not something contained within ourselves. It is our connection to the world outside ourselves. If that connection snaps, our life snaps with it. If we stop breathing, we die.
The power of breath
But breath does more than just keep us alive. It also allows us to communicate.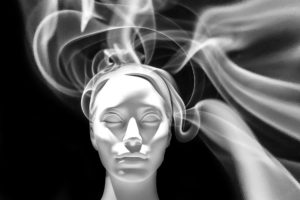 When we breathe in, our bodies absorb the oxygen needed to keep us alive. But when we breathe out, expelling the carbon dioxide that our bodies have no use for, we use that air to speak. Without air, we could not form words.
By breathing in, we show our dependence on the world around us. By breathing out, we give ourselves back to the world, communicate our thoughts and dreams.
By breathing in, we sustain our spirits. By breathing out, we share our spirits. 
When God "breathes"
God, of course, has no need for oxygen. God has no need for us, either, or for the universe. We were created to be dependent on our world, and through that dependence, to begin to understand our dependence on God.
God depends on nothing. But still, God breathes—not literally, of course. We humans understand it as breathing, because we know that without breath we would die, and we compare this to the relationship between ourselves and God.
Without breath we would cease to exist. Without God, the universe would not exist.
The war of… words?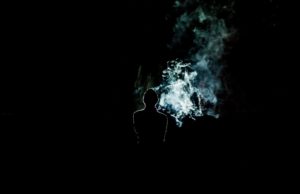 Back in verse 2, I said Genesis chapter 1 tells the story of a great war: Chaos against Order, Life against Death, God against Oblivion. I will speak more about the war in verse 4 (the next post).
For now, take note of the weapon that God uses to wage war. No swords, no armies. Only this: the Breath of Life.
When we speak, we share ourselves with the world around us. As humans gifted from birth with the ability to form language, we often take speaking for granted. We rarely acknowledge the incredible power of words – the ability to share ourselves, our thoughts, our ideas from one mind to another.
In a way, when we speak, we are sharing our life-force with the universe.
This is the great weapon of all spirits, and of God's Spirit especially. No, God does not literally speak. That's just the way we humans understand it. So in that human understanding, the writer of Genesis 1 tells us a story in which the Spirit wages war against the Darkness, by speaking.
To create the universe, God speaks, breathes out into Oblivion, and forces it away. God's breath becomes the life-force that animates all other life-forces. Even today, some billions of years after science tells us that the universe began, we are still connected to this same breath.
---
Breathing exercises are used by many people to help calm down, focus, or relax. Have you ever used any of these? Why do you think they work so well? As you go through your day today, think about your breathing from time to time, and focus on breath as a connection point between you and God.
Share as you feel comfortable sharing in the comment section!